Baldo depicts a loving, Hispanic family in a funny and universally relatable way
Baldo made its way to the funny pages and our hearts in  April of 2000. Writer Hector Cantú had been thinking up a daily comic strip about a Latino teenager and his family for many years, but he knew that his artistic skills weren't quite up to the task, so he brought artist Carlos Castellanos onboard and after a bit of tinkering a piece of storytelling magic took place.
Hector Cantú noticed an absence of Latinos in the funny pages in 1998, so after joining forces with Carlos Castellanos they created a few samples and soon after sending them out, their creation was picked up by two syndicates.
Baldomero "Baldo" Bermudez is the title character.  He is a good teenager who is interested in girls, low riders, has a job at an auto parts store and would like very much to be cool.  He lives with dad, Sergio "Papi" Bermudez, a widower, who is the quintessential dorky daddy; his Tia Carmen his quirky, uber-religious great-aunt; and Gracie, his genius, yet still, spunky little sister who loves Chica Power!  His best friend is Cruz, a sweet kid who plays well off Baldo.  It was just revealed that Cruz was a Dreamer.
While Baldo is a family-friendly comic strip, it does not shy away from tough and sometimes controversial topics including drunk driving, scams directed at senior citizens, stereotypes, the tough aspects of growing up, immigration and more.
Hector Cantú and Carlos Castellanos connected with Michelle Tompkins for The Celebrity Cafe about their early lives, their collaborative process, the importance of comic strips, their thoughts and actions regarding Hispanic Heritage Month, offer advice to aspiring cartoonists, what they like to do for fun and more.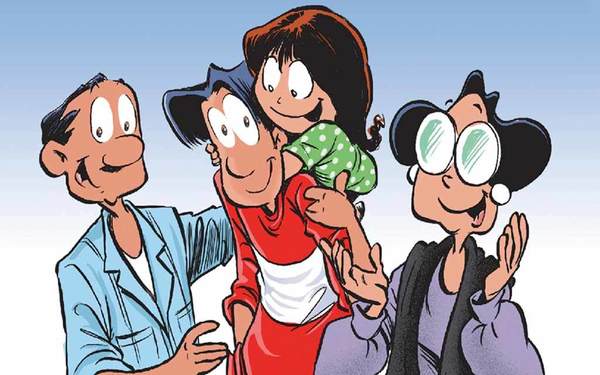 Michelle Tompkins:  Where are you from?
Hector Cantú: I was born in Texas.
Carlos Castellanos: I was born in Cuba. I came to the U.S in 1961 at eight months old.
Michelle Tompkins:  Where do you live now?
Hector Cantú: In the Dallas area.
Carlos Castellanos: South Florida
Hector Cantú and Carlos Castellanos talk about their origins
Michelle Tompkins:  Please tell me about your background and educational experience?
Hector Cantú: I've been writing and reading comics since I was a kid. I was editor of my high school newspaper and studied journalism at the University of Texas at Austin. I actually submitted cartoons to Mad Magazine when I was in sixth or seventh grade. I thought their pay was atrocious so I refused to sell them my material. Not really. They rejected me (duh), but the rejection letter was very nice.
Carlos Castellanos: I've always been interested in drawing. I attended two years of community college and a year at Art Center College of Design in Pasadena, California. I started my freelance career while in college, so consequently never graduated.
Michelle Tompkins:  Which jobs have you had in your life?
Hector Cantú: The earliest job I remember was crawling into an air duct to do something for an HVAC repairman in the neighborhood who said he would pay me $5. He stiffed me. I guess it really wasn't a job. It was a lesson. I was a dishwasher in high school. Otherwise, all other jobs I've had involve writing and editing for newspapers and magazines.
Carlos Castellanos: My earliest job was pumping gas at a gas station, I was like 14. I've dug ditches, held various sales jobs selling shoes, sports clothing, parked cars, worked the graveyard shift at a bakery, worked as a personal trainer, had my own business selling clothes to boutiques stores while in college, art director and package designer. Whew!

Michelle Tompkins:  Is Baldo your primary source of income or do you have other gigs?
Hector Cantú: I'm editor and publisher of The Intelligent Collector, the official magazine of Heritage Auctions.
Carlos Castellanos: In addition to Baldo, I also continue to run my full-service art studio primarily producing work for companies and marketing agencies. I also run an artist consulting business. I've developed a varied skill set throughout my career which has taken me down the entrepreneurial path. I'm one of those rare artists who embrace business, marketing and sales.
Michelle Tompkins:  When did you start writing?
Hector Cantú: I've been writing and drawing since I was 10 or so. I had a political cartoon published in my local small-town newspaper when I was maybe 12. I wish I could say I was some kind of cartooning wunderkind, but actually, I was the publisher's little brother.
Michelle Tompkins:  When did you start drawing?
Carlos Castellanos: I started drawing a lot in third grade.
The origins of Baldo
Michelle Tompkins:  How did Baldo come about?
Hector Cantú: I was living in Santa Barbara, California, about 1998 when I thought I should give this whole cartooning thing another shot. The comics page back then didn't have Latino characters so I called up Carlos and we developed Baldo. We sent out samples and two syndicates immediately offered us a deal.
Michelle Tompkins: Hector, did you ever have plans to draw Baldo yourself?
Hector Cantú: No. I thought to have a fighting chance in the competitive newspaper syndication business, the comic had to be drawn really well. Luckily, I knew Carlos.
Michelle Tompkins:  How did your collaboration begin?
Hector Cantú: I had hired Carlos to do some illustrations for the magazine where I worked. I really liked his style. When the Baldo idea popped up, I asked if he was interested in teaming up and he said, 'Yeah, let's do this thing, baby!' Actually, I think he said, 'Whatever, yeah, sure.'
Michelle Tompkins:  How does the collaboration work? Do you work together in-person or virtually?
Hector Cantú:  Baldo is an e-collaboration. We do everything over the internet. I email scripts to Carlos. We tweak, revise, choose our favorites. Carlos then does the art and sends the strips to me via email. Then the final strips are uploaded to Andrews McMeel Syndication. We see each other in person every couple of years or so. Most recently, in April, we did a presentation together at the Eugene Public Library in Oregon. It's always a blast meeting Baldo readers and the Eugene crowd was great!
Michelle Tompkins:  Do you ever fight about the content?
Hector Cantú: We don't "fight." Carlos might have an opinion on a gag and I might have an opinion on a facial expression. But we work it out. I don't think anyone would describe us as "temperamental artists." We might make an argument for something specific, but we're pretty chill. We trust each other and the skills we bring to the table.
Michelle Tompkins:  Why do you like creating comic strips?
Hector Cantú: Comic strips are such a unique art form. They can be simple messages but with so much meaning. They're a great example of the whole "less is more" concept. It's a challenge creating these little productions that leave the reader with some kind of payoff – a laugh, a smile, an emotion. Every day!
Michelle Tompkins:  What's the best part about creating comic strips? The worst?
Hector Cantú: It's really special when I do a comic show and a young adult tells me they've been reading Baldo since they were 5 or 6. One young lady at a recent show actually cried telling me about how she loved Gracie and Tia Carmen. She brought a Sunday comic she'd clipped from the paper, like, when she was 10! We've been doing this strip for 18 years so, yeah, we're reaching a lot of people and I guess it's weird, or should I say an honor, to be getting to that place where people say they grew up with Baldo.
Carlos Castellanos: For me, the best part of creating the comic strips aside from the obvious creative freedom it allows us, is the support and connection our readers have developed with our characters over the years. They're invested in the characters and their experiences. Our characters have become like an extended family, adopted by our readers. Given the many emails and comments we get from readers of the strip, you realize how the characters have taken on a life of their own. It's humbling and exceptionally gratifying.
Michelle Tompkins:  What is do you think is the future of comic strips?
Hector Cantú: People love comic strips. They'll always be around. Like all content, it comes down to the delivery system, and a lot of that is still in flux. In the meantime, like a lot of people, I enjoy picking up my local newspaper and sitting down with a cup of coffee.
Carlos Castellanos: I think comic strips will continue to be with us for many years to come. The format as it exists today is primarily due to newspapers. However, you can also upload them to be read online, print them in books, turn them into video shorts, etc. If newspaper ceases to exist, comic strips will likely morph into something more suitable for whatever new platforms spring up. The idea of storytelling with and without images, whether short form or long form, has been with us forever. It's how we connect, teach, understand and relate, and will likely continue.
Michelle Tompkins:  Why do you think comic strips are important?
Carlos Castellanos: The ability to tell a story, influence, teach, entertain, facilitate a conversation, question, inspire, connect, is what I think is important. If a comic strip is successful at any of those I think it's important.
Michelle Tompkins:  How did you come up with Baldo? And Carlos, did you go through many iterations of drawing of the family until you got it right?
Hector Cantú: The idea has always been a family strip and Baldo has been there since the start. We knew we wanted to focus on a 15-year-old boy, his sister and his dad. We wanted an older generation, too, so that's where Tia Carmen came in. I don't think we've veered away from our initial goal 18 years ago to just tell these everyday mini-stories of a family, a family like ours.
Carlos Castellanos: Yes, there was an evolutionary process for the characters, both in terms of how they look and personality.
Michelle Tompkins:  How would you describe Baldo to someone who hasn't seen it?
Hector Cantú: Baldo is a newspaper comic strip. You know, like Blondie and Garfield. In newspapers.
Carlos Castellanos: Baldo is a syndicated family comic strip with great characters. You need to check it out. I then break out my iPhone and show them samples of the strip. Showing is better than telling : )
Michelle Tompkins:  Please tell us about the family.
Hector Cantú: Baldo's a good kid. He's not going to be class valedictorian, but he tries. He values hard work. He likes cars. He respects his elders. Gracie loves reading and she actually might be class valedictorian! Tia Carmen is just a loving, caring aunt. And Sergio is there to keep the ship on course.
Michelle Tompkins: Baldo is very funny. Who or what are some of your comedic influences?
Hector Cantú: I grew up on Mad Magazine. Sergio Aragones, who did the Mad marginals. Antonio Prohias, who did Spy vs. Spy. Also thrown in are the strips I admire … Calvin and Hobbes, Peanuts and Doonesbury. With a dash of Cantinflas and Monty Python. It's all in that mixing bowl, blended together and poured into a tall glass of Baldo.
Carlos Castellanos: Early influences were Mad Magazine, Peanuts, The Far Side, Calvin and Hobbes and Bloom County.
Michelle Tompkins:  Baldo is one of a few cartoons featuring a Hispanic family.  Do you think of yourselves as role models for this community?
Hector Cantú: There are Hispanic characters on the funny pages, like Hector in Zits. But I'm pretty sure Baldo is the only newspaper comic strip about a Latino family. We always think about how young people will see our strip. We want people to identify with the characters. Baldo is a hard-working teenage boy who likes cars. Gracie is a smart little girl who talks about going to college. If those are role-model characters, that's fine. But like all other comic strips, we're here to entertain, to make you laugh, smile, get mad, feel good.
Carlos Castellanos: Not at all. If someone, Hispanic or otherwise, gets inspiration to share their own stories from the success and exposure we've been fortunate to experience through Baldo, that's a win.
Michelle Tompkins:  Is the strip bilingual?
Hector Cantú: We do produce Baldo in Spanish for Spanish-language newspapers. Otherwise, yeah, we occasionally use Spanish in the English version of the strip.
Michelle Tompkins:  You seamlessly mix Latino culture and American culture.  Was that always your intent?
Hector Cantú: The intent was presenting a Latino family living in the United States, so obviously there's always that mix of cultures. Both Carlos and I grew up that way, listening to Led Zeppelin but also listening to Tito Puente, loving pizza but also loving our abuelita's arroz con pollo.
Michelle Tompkins:  Catholicism or spirituality is an important component of Baldo, was that always your intent?
Hector Cantú: Religion has always been a big part of our lives, so yeah, we've always had that in our tool chest of story-telling.
Michelle Tompkins:  How did you decide to make Cruz a Dreamer?  What kind of reception has that received?
Hector Cantú: I'm always asking myself what would our characters experience if they were real people? If Baldo was a real teenager in some urban school district, he would probably know a few Dreamers. When we talked about this idea, we wanted to raise the stakes a bit. So we decided our Dreamer would be a central character. The reception has been extremely positive! I was interviewed on NPR about that storyline. And I'll repeat what I told them: If we as a country start deporting Dreamers, we'll see that happen in the strip, too. We'll lose Cruz. "How can you take away someone we love, someone we've grown close to?" you might ask. Well, yeah. Right!
Michelle Tompkins:  Something that makes Baldo special is that it features a truly diverse group of characters. How do you choose which ethnicity a new character will be?
Hector Cantú: We're basically operating on the premise that Baldo lives in a mid to big city, and goes to a pretty diverse school. So we try to make our characters reflective of that … reality.
Michelle Tompkins:  Does it run in other countries?
Hector Cantú: Yes, Baldo has clients in Latin America!
Michelle Tompkins:  Gracie is a great role model for girls.  Where did you get the inspiration for her?
Hector Cantú: Early drafts had Gracie as Baldo's older sister, like 18 years old, but Carlos suggested she be a kid. So we lost 10 years and made her 8. I think she kinda kept the personality of a teenager, though. We both grew up with strong women, so Gracie kinda reflects that. She's the strip token genius.
Michelle Tompkins: How was the decision made to make Sergio a widower?
Hector Cantú: We actually made that decision a little late. We knew we wanted Baldo, Gracie, Tia Carmen and Dad. We put off mom for a few months, thinking we'd get around to her. But she never materialized! We were busy enough with our four main characters. So we thought OK, maybe they are divorced. Maybe she ran away and joined a reality TV show. We eventually decided to be all dramatic about it and just killed her off before she was even created.
Michelle Tompkins:  How was the decision made to draw the accident that killed Rosa different?
Hector Cantú: We were fielding fan mail about mom. Where is she? What happened to her? So we had to address it. Since it was a serious topic, we decided to do it soap opera-style like Judge Parker and Mary Worth. I think it's a testament to Carlos' remarkable talent to jump between those two art styles. And I think we both like the change of pace when we do that. We've decided not to overdo it, though. It's only for very special episodes of Baldo.
Michelle Tompkins: Is there any topic that is too serious for you to take on in the strip?
Hector Cantú: Not really. I think anything can be addressed in the comic. The hard part is addressing a topic in three or four panels that makes a good point, is entertaining, or both. So it's not really a matter of being "too serious." It's a matter of being really hard to do.
Michelle Tompkins: Baldo loves lowriders. Do you like them too? If so, do you attend car shows?
Hector Cantú: I've always been a car guy. I have my subscription to Lowrider magazine. I get to the shows when I can. I love the craftsmanship. The detail. The idea of cars as an art form. They are very uniquely American.
Carlos Castellanos: I'm not a huge car enthusiast, myself. But I do appreciate the creativity and workmanship that goes into car design and customization. I make it to a few car shows every now and then.
Michelle Tompkins:  Tell me about the April Fools Strip from 2007 where Tia Carmen was detained by Homeland Security?  What kind of response did you get?
Hector Cantú: People were saying, 'How can you take away someone we know so well? Someone we love? Carmen is like family!' And I think that was the point. But this was 2007! We did it as an April Fools strip, but it's not so funny anymore. Stuff like this is actually happening.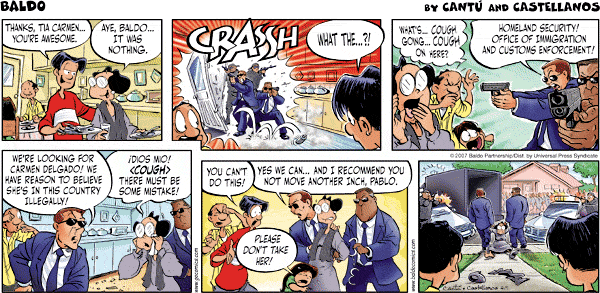 Michelle Tompkins:  Is Rosa based on a real person?
Hector Cantú: No. We've never really delved into her character. Maybe someday…
Michelle Tompkins:  One storyline that was interesting was scams on older people.  How did that come about?
Hector Cantú: People always ask where we get ideas and it's simply a matter of consuming all kinds of news. Magazines. Newspapers. I'm pretty sure it was a news story on scams and we just adapted it to our characters. What would happen if this happened to Tia Carmen? How would she handle it? That's probably one of my favorite storylines. It was helpful and amusing at the same time.
Michelle Tompkins:  How do you handle the topic of immigration?
Hector Cantú: Immigration as an issue is moving so fast. We really don't know what's going to happen next week. So we really can't risk doing a big immigration storyline and then it becomes a moot point because everything has changed between when we finished the strip and when it's published. We have, like, a four-week lead time. So that's the challenge … writing about something or a situation that won't change in four weeks. For instance, I was thinking recently that maybe Cruz decides he wants to join the military to increase his chances of staying in this country. But then the news broke that they're starting to kick out immigrants who have enlisted. As Cathy would say … Ack!
Michelle Tompkins:  How do you use time in your work? How do characters age?
Hector Cantú: We decided early that the characters would not age in normal time. It's like the past 18 years have all happened in 11 months. Not to say that we won't suddenly age everyone. I think Tom Batiuk did it in Funky Winkerbean. Gracie as a high-schooler might be interesting.
Michelle Tompkins:  How do you come up with your stories? How do you conquer writer's/artist's block?
Hector Cantú: Writer's block is not an option. We get a couple of vacation weeks a year, but otherwise, we're always sending newspapers new strips. The show must go on!
Carlos Castellanos: Creative blocks are for amateurs.
Michelle Tompkins:  Do you always do something special for Hispanic Heritage Month?
Hector Cantú: Depends. Sometimes. In our little world, it's Hispanic Heritage Month every month.
Michelle Tompkins:  How do the guest artists that you bring in from time to time work? How do you find them? 
Hector Cantú: Most of the guest artists are friends of ours, cartoonists we know. They're always happy to help out and loan their characters if something makes sense. We've done crossovers with Javier Hernandez, creator of El Muerto: The Aztec Zombie, and Richard Dominguez, who does El Gato Negro. Readers like the crossovers. They've been pretty successful. Maybe we'll do more.
Michelle Tompkins:  Who is your audience?
Hector Cantú: Newspaper comics attract a general readership, so it's all kinds of people.
Michelle Tompkins:  What does your workweek look like? What is your process?
Hector Cantú: I'm always looking for ideas, situations that might apply to the characters. I'll send myself notes on my smartphone. Like recently there was a mom in California, I believe, who was talking Spanish to her kids in a park and some stranger lady told this mom to speak English to them. I'm thinking … okay, Carmen, Gracie, in a park, possibilities. So a few days a week, I sit down and go through all my notes and story ideas I've collected and try to put together a batch of scripts. If I don't average seven a week, at least, I'm in trouble.
Carlos Castellanos: I review new drafts from Hector on Fridays. If drafts are not in my inbox by noon I send him menacing email reminders with angry emojis. I usually work on the strips during the week in between other projects I have going on. Typically it takes me two days to finish a week's worth of strip. One day for the Sunday strip, one day for the six dailies.
Michelle Tompkins:  What is your estimated audience?
Hector Cantú: We're in close to 200 daily and Sunday newspapers so I'm guessing we get in front of millions of people every day. We were just added to the comics page of the New York Daily News so that's a few million right there!
Michelle Tompkins:  How long do you plan to keep the strips coming? Would you ever pass the reigns off to someone else?
Hector Cantú: It's hard to think about quitting such a fun, creative job … something you've dreamed of doing since you were a kid. I think it'll keep going for a while.
Carlos Castellanos: I hope to continue the strip for as long as I can.  Baldo is a big part of my creative career. I think it would be hard to walk away from characters we are so close to. As for passing the reigns to someone else, I don't have a problem with that either.  Baldo is also a business. If we can continue to serve and entertain, and create opportunities for other artists to do work they also love, that would be great.
Michelle Tompkins:  Have you been approached to adapt any of your work to TV or movies?
Hector Cantú: We worked with Univision several years back and actually produced some animated shows. They ultimately decided not to air the show on the network. We're always discussing possibilities with Hollywood producers, but nothing to report yet.
Michelle Tompkins:  Are there any other creative endeavors that you want people to know about?
Hector Cantú: Baldo keeps me pretty busy.
Carlos Castellanos: My studio produces attention-grabbing whiteboard video animation for some incredible clients.  Most recently, I'm wrapping up a series of videos that will be showcased for the second year in a row at the upcoming Mr. Olympia Bodybuilding Competition. (Shameless plug!)
Michelle Tompkins:  What do fans typically ask you?
Hector Cantú: 'Where do you get your ideas?' 'Do your kids inspire you?' 'Why don't you dye your hair?'
Carlos Castellanos: How do I get started in an art career? How can I make money with my art? How do I find clients for my work?
Michelle Tompkins:  Do you do any other kind of writing, art or graphic design or other comics?
Hector Cantú: Baldo keeps me pretty busy.
Carlos Castellanos: I do commercial illustration work for a select few clients. Most notably the Whiteboard Video Animation Work.
Michelle Tompkins:  Have you won any awards?
Hector Cantú: I got a blue ribbon in first grade on track and field day. Baldo was a semi-finalist in this year's Reuben Awards of the National Cartoonist Society.  
Michelle Tompkins:  How do you connect with your fans? How can fans connect with you? (Social media, your website or blog, etc.?)
Hector Cantú: We have a pretty active Facebook page. GoComics also lets readers comment on storylines.
Michelle Tompkins:  Do you go to Comic Cons?
Hector Cantú: Yes! I'll be at the Texas Latino Comic Con in Dallas on July 28. I get invited to the Latino Comics Expo in Long Beach, California.
Carlos Castellanos: A few here and there. Whenever my schedule allows.
Michelle Tompkins:  What kind of software or equipment do you use to make your strips?
Carlos Castellanos: I do all my work digitally. I use a Mac computer and Adobe Photoshop and Clip Studio Paint as my drawing and coloring software.
Michelle Tompkins:  Where can people find your work?
Hector Cantú: We're in nearly 200 newspapers across the country, coast to coast. That's the best way to find us! We're also on GoComics.com, and on Facebook/BaldoComics.
Michelle Tompkins:  If someone wanted to start following your work from the beginning, how would they do that?
Hector Cantú: I believe GoComics.com/Baldo has every single comic back to April 2000 when we launched. Happy reading!
Michelle Tompkins:  How many books have you published?  Where can people get them?
Hector Cantú: We've done two compilation books. It's been a while since they were published but I think you can still find them on Amazon. We sell them when we do comic con shows, too.
Michelle Tompkins:  What advice do you have for people who want to work in comic strips?
Hector Cantú: Everyone can publish a comic online these days. My advice is to start there. Build your characters. Build your audience. Then see where it goes.
Michelle Tompkins:  Is there any charity work you would like to mention?
Hector Cantú: We just did our "Doodle For Hunger," the art auction that raises funds for New York's St. Francis Food Pantries and Shelters. Excited about that!
Michelle Tompkins:  What do you like to do for fun?
Hector Cantú: Write comics. Ha! I like movies, traveling, hanging out with cartoonists. I'm founding chair of Texas Cartoonists, the state chapter of the National Cartoonists Society. We visit hospitals, volunteer at fun runs, draw for kids, that kind of stuff.
Carlos Castellanos: I enjoy going to the beach, canoeing, paddle boarding, anything around water. I like being outdoors and active. I work out with my sons daily, it's a good bonding experience. I like to go to the movies and just hanging out with my family.
Michelle Tompkins:  What movies, TV shows or books do you enjoy?
Hector Cantú: I really liked Sing Street, which came out two years ago or so. I was in a rock band in Austin in the '80s so that movie really hit home with me. Of course, I'm first in line for all the superhero movies. And my wife and I binge-watch good sci-fi shows on TV like Altered Carbon or The Expanse.
Carlos Castellanos: I enjoy all the superhero movies. TV shows I enjoy are Westworld, The 100 and most recently Queen of the South on Netflix. The books I enjoy reading are related to business, marketing, self-development and finances.
Michelle Tompkins:  Is there anything you would like to add?
Carlos Castellanos: If you enjoy reading Baldo in your local newspaper, please write a short note to the editor thanking them for carrying the strip. It will help keep us in there. If it doesn't run in your local newspaper, write a nice note to the editor requesting they carry it.
Hector Cantú and Carlos Castellanos and Baldo may be found here.
All Baldo strips are printed with the permission of Hector Cantú and Carlos Castellanos and Andrews McMeel Syndication.