On Oct. 4, food network staple, Ree Drummond launched a new line of bedding that includes comforters, bedspreads and more that is now available at Walmart and Hayneedle.
Drummond has been one of the most popular food bloggers since she started her own domain called thepioneerwoman.com in Oct. 2006.  She has since branched out to become a cookbook author, restaurateur and entrepreneur.  In 2015, she created her popular cookware line.
The combination or recipes and stories about her life on a ranch in Oklahoma, paired with vivid photos made her blog a near instant success.  Her blog "Confessions of a Pioneer Woman" won Web Blog Awards (Bloggies) in from 2007-2010.  In 2009 and 2010 she won the top prize of Weblog of the Year.  She has written cookbooks and books for children.  Her food network show The Pioneer Woman premiered in 2011.
Ree Drummond had a quick catch up call with Michelle Tompkins for TheCelebrityCafe.com about what's new with her, what makes her new bedding line so special, what she likes to do for fun and more.
Michelle Tompkins:  I'm so happy to talk to you again.
Note:  Ree Drummond was interviewed by TheCelebrityCafe.com in November 2016 about getting ready for the holidays.
Ree Drummond:  Aw, thank you so much. Thanks for making the time.
MT:  Oh, you too. So you are happy  about the arrival of fall?
RD:  Oh, yes I am. I'm excited about the weather and about the bedding [laughter].
MT:  Oh, I can't wait to hear about your new business venture. Have you always been interested in interior products, interior design and that kind of stuff?
RD:  Well, I'm more interested in kind of more doable ways to transform a room or a space. I'm not really someone who walks into a room and thinks I want to move that wall and I want to add to this molding. I like to dress it up in easy ways. So I think bedding is the best way that you can sort of transform your bedroom without going to a lot of effort. And that's what I'm really excited about. I do the same with my dinnerware and cookware in the kitchen. You don't have to buy it all at once. You can buy the pieces that you like and just sort of change the shelf or change your table. And that's kind of how I like to approach home.
MT:  Now, tell me a little bit about your cookware product design. What are some of your favorite products that people like to buy?
RD:  Well, the cookware is popular. But folks really enjoy my dinnerware because it's colorful and they're a mix and match pattern. There are florals and dots. And there's not just one set. You buy this set or this set. It's all very interchangeable. And that's the same approach I took with my upcoming bedding line. You don't have to just stick with that collection of its own. You can work in pillows from one bed and see it from another. And the colors, they're all different, but they're very compatible. And if you like things a little bit more monotone or one color, you could have a white bed or a gray bed and add some pops of color. Or if you want to go all out and have a bright yellow bed with beautiful red floral pillows, which is probably my choice [laughter], you can really go for it. It's really exciting because it allows people to build the bed that they want and they don't have to be told how to do it, which is really fun.
MT:  Now, where do people learn information about your line?
RD:  The bedding line launch is on walmart.com, October 4. We'll have all the pictures, all the auctions, different ideas for inspiration. And I'm just counting down the days. I could not be more excited.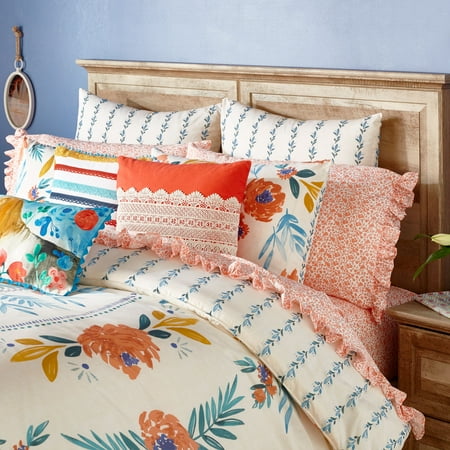 MT:  Now, in the meantime, how are things going in Oklahoma?
RD:  Everything's going great. I'm actually filming my show right now and so that's a lot of fun and keeping us busy. And the kids are in school and getting their homework done. Cooking a lot. Eating a lot. And just kind of, in many ways, it's the same as it's always been. It's a busy fall.
MT:  Now, how's the Mercantile doing?
RD:  Oh, it is going really great. We're almost a year in. We opened October 31. And it just feels really good to be where we are and have all the opening little kinks worked out [laughter]. It takes a little while doing business. We opened with a store, a restaurant, and a bakery. So we're doing great.
MT:  Ree, what do you like to do for fun?
RD:  Oh, what do I like for fun? I'm so boring. My idea of a great day is just to be home with absolutely nothing to do [laughter]. So I love Real Housewives. I love old western. Love my dog. I just love being home, that's my idea of a good time on a pretty Tuesday [laughter].
MT:  And you like people to follow you through your social media?
RD:  Yeah. I really enjoy food blogging, and keeping up with Facebook, and Instagram. It's kind of the best of both worlds. I could be in the country and I can still stay in touch.
MT:  Well, best of luck in all your endeavors. I can't wait to see your new line.