Over the past few years the stunning Ana de la Reguera has played a nun, a powerful drug dealer, a secretary to a mean girl and much much more.  Not a bad start from someone now considered to be one of the most influential Latinas along with Supreme Court Justice Sonia Sotamayor.
Originally from Veracruz, Mexico, performing has always been in her blood.  She got her start in telenovelas and was first seen by most American audiences in Nacho Libre. She was in HBO's Eastbound & Down, Netflix's hit crime-drama and Golden Globe-nominated series Narcos, Cowboys & Aliens and more.
Her beauty and elegance has been noted by audiences and the media.  She was dubbed one of Vogue's "33 Most Elegant Women in the World" and by People Magazine as one of the "50 Most Beautiful." She has been featured on the covers of many international magazines including Harper's Bazaar, Glamour, InStyle, Cosmopolitan, GQ, Marie Claire, Mujer, Esquire, and Elle.
Ana de la Reguera has three projects out now or coming soon:  Everything, Everything, based on the New York Times' Bestselling YA novel by Nicola Yoon of the same name, a role on 50 Cent executive produced Starz series Power and the much anticipated Twin Peaks return on Showtime.

The lovely, socially conscious, elegant and hard-working Ana de la Reguera spoke with TheCelebrityCafé.com about her early work, what is her must-have item in her makeup bag, who are her celebrity crushes, how she prepares for roles, how she defies stereotypes, what she knows about the new Twin Peaks, her charity work, what she does for fun and more.
TheCelebrityCafe.com:  Can you please tell me a little bit about yourself? Where are you from?
Ana de la Reguera:  I'm from Veracruz, Mexico. It's in the southeast part of Mexico. It's a port. It's by the water. That's where I'm from.
TCC:  And can you tell me a little bit about your family?
AR:  Well, my mom actually was a beauty queen and a carnival queen and Miss Veracruz.
We have carnival in Veracruz, so she was carnival queen, and then she also was Miss Veracruz and was fourth place in Miss Mexico or something like that. Yeah, I think it was fourth place. And her whole life, she has a charm school and she's been doing that for 30 years. And she had also a segment. She had her own show, all these, locally, in my hometown. And she writes in the newspaper. And she also wrote a book. So she's very active. And my dad is an accountant. He was an accountant and then he worked for different in companies and she's retired now. And they are divorced. But, yeah, my dad was more like a normal guy [laughter].
TCC:  How did your family influence you to become a performer?
AR:  They were fine. Like fortunately for me and my sister, because my sister is also like she is in the music and she also studied to be a film director, so they were very supportive with us since we were very young. Like my mom really, you know, really could tell what we were good at. And she just put us in classes and she was always supportive of what we wanted to do. So it wasn't like a big deal. Like when I said I wanted to be an actress, my mom was okay. She was like, "This is going to pass," like every girl wanted to be an actress at some point or they say that. But it didn't happen. So, but she was fine with it.
TCC:  Now, which languages do you speak?
AR:  Just Spanish and English.
TCC:  Well, that's better than most people.
AR:  That's better. Yeah. I want to learn other languages. I want to go, at some point. I have this dream of going to Europe for a year and then go to Italy because Spanish and Italian is very, very similar, so I think I'll be okay with like four months living there. And then I want to go and speak French, so I want to go to France for like eight months because it's a little harder. And yeah, at some point I'll do that, but for now, I just speak two languages.
TCC:  It sounds like fun that you have the travel plans. I think that's a great goal.
AR:  Yeah, I want to do that once in my life. I am going to do that.
TCC:  And have you always been interested in fashion?
AR:  I have, actually, because of my mom, because I grew up in a house where she taught me— oh, she teaches still how to— she changes your image, and she tells you what colors will look best for you, and what type of clothes, and gives you your type of body. So I grew up around magazines. And that was my whole house. So yeah, I was into fashion since I was very little. Even though it was my personality, because I remember that it was like— you know how kids are. I would not want to be dressed in something I didn't like or for example, I would go on vacations and they would want me to dress with my cousin's clothes because I would run out of clothes. Or there was something that I had to borrow some clothes. I didn't like that. I was like, "No, I don't like her clothes." I wanted to do my thing since I was very, very young. So my whole life was very— I remember when I was a kid and I remember not having what I wanted to wear and feeling uncomfortable, and I remember also at one of my birthdays, the first thing I would always think was what was I going to wear? So it was very— it's been very present in my life.
TCC:  And how would you describe your style now?
AR:  I don't know. I think I don't know if my style—it's difficult to describe. It's always feminine with a touch of something a little masculine in it.
TCC:  What do you like to wear when you're not on a red carpet?
AR:  Depends. To be honest, I'm always what looks good on me. I love fashion, but at the same time, I kind of always go with the same lines, and with the same style because I know what works for me. So it depends on the occasion, but let's see. Yeah, it's strong feminine style. I don't know.
TCC:  Well, you were named one of Vogue's most elegant women so it's working for you [laughter].
AR:  Thank you. Yeah. Well, it's also classic. I like to have things that are on trend, but I don't want to be wearing the whole thing or everything that everyone's wearing. I always want to do— it's not wearing my own stuff, I just know what works for me and with that, I just add something that I like right now. But I do shop, and I keep track with what's new and what the new designers are and when I want to wear wear and— yeah.
TCC:  Now, do you still model?
AR:  I've never modeled in my life.
TCC:  Oh, really?
AR:  Yeah, no. I have always been an actress.
TCC:  Okay. But you have so many covers of magazines. I think that's good because they all come from your acting career.
AR:  Yes, yes. Exactly.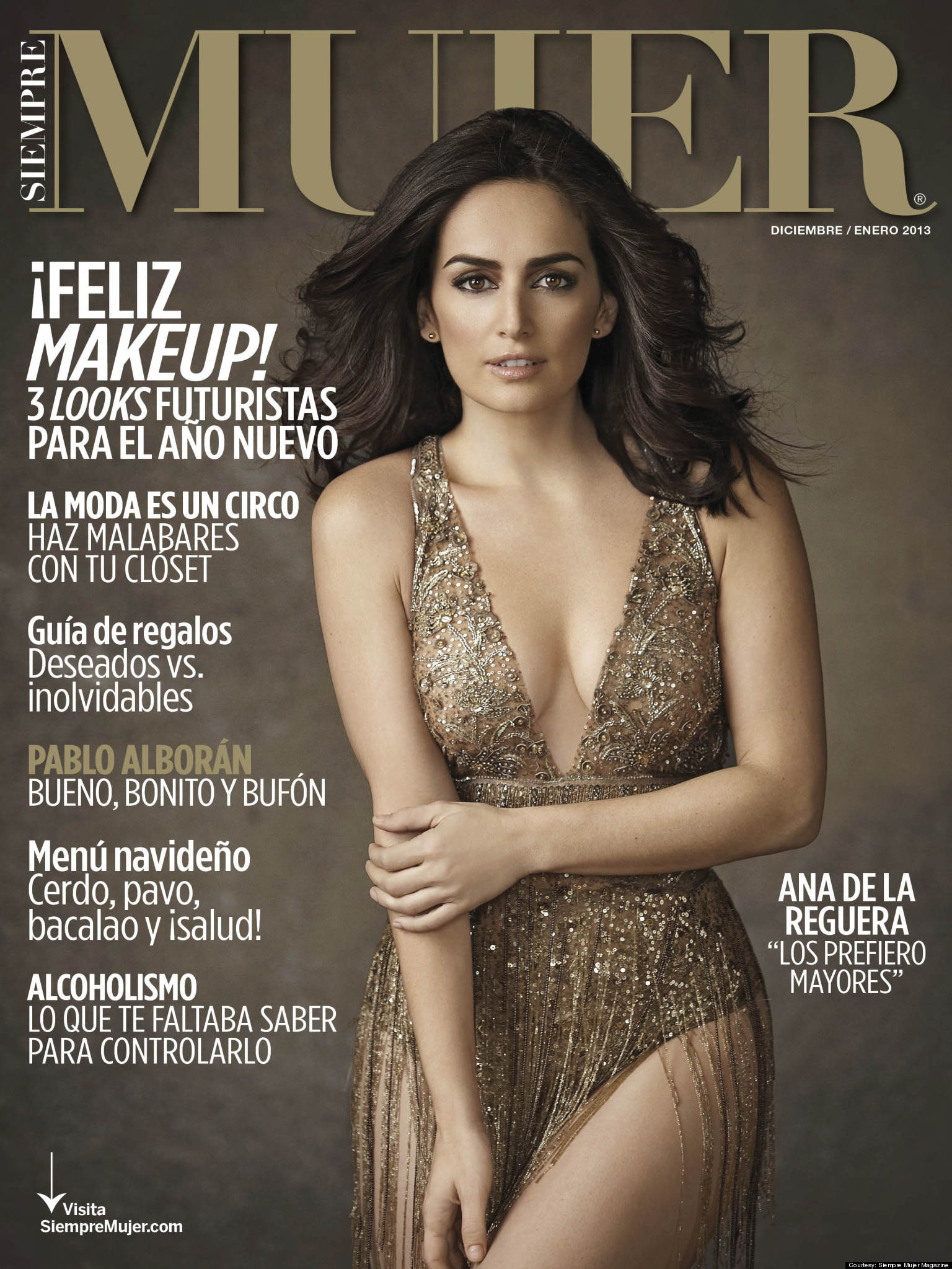 TCC:  Okay. Who are some of your favorite designers?
AR:  My favorite designers, right now I'm obsessed with Jacquemus. I really like their stuff right now. But Dolce always works for me. Carolina Herrera, because she's amazing and she's very classic. Who else? I love Balenciaga. And who else do I like? Celine. Yeah.
TCC:  Now, what is your one must-have item for your beauty bag? So if you couldn't have any other kind of makeup, what's something you would need to have with you?
AR:  I pretty much use a bar that is for your cheeks and your lips. So sometimes, if I really don't have time for anything, I just put it in my bag and leave, and then I just put it in the car a little bit so I have some color in my face. So a lot of the times I just have that with me.  I have at least one lipstick does the same thing. So I would say lipstick, for sure.
TCC:  That would be mine, too [laughter].
AR:  Yeah, yeah. A red lipstick. I always have some red lipstick because whatever happens, you can make big changes just with glasses and red lipstick and-- some shades and red lipstick, and you're okay.
TCC:  I always feel a little bit better with a little red lipstick on. I agree with you.
AR:  Yeah, definitely.
TCC:  And what was your first professional role?
AR:  Well, more like in-- I did little things, but my first first one was soap opera where I had a very beautiful role. I had one in a soap opera that I was like 15 episodes, because soap operas in Mexico are like 200 episodes. So 15 episodes is very little. So I was a secretary for the mean girl, the mean woman. She was an older woman. And I was just passing messages, but that was very, very little. And then after that, I got a big break with a very-- it was a period show. And it was kind of like a Romeo and Juliet story, where I was in love with my cousin, and they didn't let us get married, and I would kill myself, and blah-blah. That role, it was important for me because it was with big stars in that moment. It was one of the biggest soap opera starts starting and it was big for me. So, yeah.
TCC:  Well, telenovelas are a lot of fun. I think they're great. And what was the name of the one that was your star-making role?
AR:  It was called Pueblo Chico Infierno Grande, which means small town, big hell. Something like that [laughter].
TCC:  Telenovelas are a lot of fun. And they always have either a Cinderella, or Romeo and Juliet, or some sort of princessy kind of theme. I love them. One thing I just— I think there's something different about telenovelas is that they seem to have a beginning, middle, and an end. You kind of know it's going to be short, usually just one season. Is that correct or has that changed?
AR:  Well, novelas in Mexico, they only last for six or seven months, and that's it. It's not like in the US that it is the same soap opera forever. I did 10 telenovelas in my career.
TCC:  Oh, wow.
AR:  Yeah. So they last six or seven months. If they become a hit here, they can be for a year, but that's the most, I know. I think the record of one novela in Mexico was two years, but generally, even if they do it really, really good, it's six, seven months. And now they're shorter because of the new trend with the shows and the series. Now they're three, four months. So it has changed. But when I was doing them, it was between six and seven months.
TCC:  What have you learned the most by being in them?
AR:  Well, I was surrounded by great actors, so I was just learning from them and regularly you do 30 scenes, but you really have to— it gives you a lot of technique, because you have to learn the lines, you have to learn the stage directions, and it's 30 scenes a day. So it's a lot of work. It's too much. But it gives you— it's a great school, at the same time. You should not be there too much, because it's difficult to walk away from that, so that's why I stopped. And it was like mixing novella with theater and with movies at the same time. But that's why I stopped because I just didn't want to be very comfortable in that world.
TCC:  And what was your first role in an American movie or TV show?
AR:  My first role was Nacho Libre in an American film, so that was my big break.

TCC:  Who did you play?
AR:  I played Sister Encarnación, who's Jack Black's love interest [laughter]. Yeah, I was playing a nun. So it was a beautiful role and that was my first role.
TCC:  Now, how did you hear about the role in Eastbound & Down?
AR:  I just went to the audition, and I got it. It was good because I thought it was only for one episode, so I didn't thought it was such a big deal, and I saw one episode, and I loved it. And I was like, "Oh, that'd be great." And then they told me I was going to go an entire season, so I was really, really excited. But it was good because I went to the audition with no—sometimes when you know something's big or something's important you're more nervous about it. So that was the way it was.
TCC:  What was the process of the audition like?
AR:  I actually just went once. Just did one thing and—I got it.
TCC:  Oh, only one?  That's great and unusual.
AR:  Yeah. Yeah. With Nacho Libre I did come in three times, and I was living in Mexico and then they flew me to LA to be with Jack, but for this one it was quick.
TCC:  How do you celebrate when you get a role?
AR:  How I do celebrate. It depends. Sometimes it's weird how you get the role. Sometimes you get the offer fast, like that. And sometimes you're waiting and waiting and you get it, and that's the best part. Every time you get a role, it's weird. For example, I remember when I got Nacho Libre, I went to the audition, and I thought I was going to get another movie that I really wanted to get and I remember the day that I got Nacho Libre, the director of this other movie called me saying that I didn't get that. So it was like a mixed feeling. So it was really weird because I wasn't expecting it, and then what I was expecting I didn't get.
And sometimes the same just happened with me with everything that is about to come out in May, that I was I never thought I was going to get it because they already told me I wasn't going to get it. And I started to do a film a couple of weeks later and when they told me I got it, I was like, "Oh, shit. Now I have to deal with this other movie that I was going to do."
And sometimes you stress, but sometimes you are just waiting for that news to -- you're just waiting for the phone to ring and when that happens, it's the most amazing feeling, and you scream, but most of the time I just go for lunch with my friends and just celebrate.
TCC:  A lot of the performers I've asked that question to say that alcohol is usually involved [laughter].
AR:  I don't drink, so for me, it's mostly food. I really treat myself and go to an amazing restaurant and get all the desserts and all the pasta, whatever. That's what I do.
TCC:  Now, how do you prepare for your roles?
AR:  Depends on the role, but most of the time it's I guess what every actor does. I just read the script, break down the script and scenes and do the analysis of the character, and after that, obviously, it depends on what the character does. I do the research too. And it depends if we had to have some physicality. Or some of the characters, sometimes, starts from the inside of the character. Sometimes, it starts from the outside. It's just really weird and depends on how the character speaks to you. Sometimes, just the first thing I think about is how she's going to be dressed. Or sometimes I feel like, "What happened to her when she was little?" It depends on the role, so it changes. But I try to do as much homework as possible, so I just read about whatever profession she is or whatever, if it's in a period of time, about what's happening there, or the whole thing.
TCC:  And what was your favorite thing about being in Cowboys & Aliens?
AR:  Well, it was a lot of things. And first of all, getting to meet— first of all, one of my few, few crushes in life was Daniel Craig, so [laughter] I couldn't believe I was going to work with him. So I was blown away and I still—I was never over being next to him. I was really nervous all the time. But at the same time, most of my films were with Sam Rockwell, who he's an amazing actor, so I was really, really happy and blessed to be next to him. And Jon Favreau is amazing. He still there was producing the movie. So the whole thing with the aliens— and I love New Mexico, so we shot in Santa Fe. So the whole thing— Olivia Wilde, she's been a great girl, too. So just me and the whole cast and being in such a big budget film, it was a lot of fun.
TCC:  Now, how do you try to defy stereotypes of Latina women?
AR:  Well, I don't know. I've been kind of lucky to have different roles. But at the same time, that's what I am. That's who I am. I'm a Latina, so it's tricky when you are like, "Yeah, I'm going for the Latina role because why would I go for the Irish role [laughter]?" It's strange, why would I ask for that? But what I do ask sometimes is, when I read a script or something, and something's written for a girl who's not Latina but a Latina could play that role, I always ask, "Oh, yeah. This could also be played by a Latina."
But I'm not trying to be American or I'm not trying to get rid of my accent and become someone else. I'm just trying to be different Latina. I'm trying to be unpredictable. I play a nun. I play a singer or a girl who was caught in the immigration line. I just played a nurse. So I've been playing different stuff. I've played the hot Latina, too. So it's just different cases. I've played a revolutionary. So I've been playing different things. But I just don't want to play the same role that's also the same. Sometimes we complain a lot. Like the drug dealers, I'm playing one right now in power, but it's the first time I'm doing it. And it's a very powerful woman. So if I get another role that is similar, then I won't do it. But I'm just doing different roles. I'm happy about it. I don't complain about that.
TCC:  Can you please tell me about your role in Narcos?
AR:  Yeah, she's a girl from— the M-19 was a movement in the late 1970s and 1980s. And she's a communist guerilla girl. And she has all these—what is it? How do you call it in English? Well, she's an idealist. And she wants the best for her country. And that's what my character is in Narcos. And she was part of this movement that, it was important because they wanted to fight the government, who was being really corrupt. And, at the same time, they got with the guerilla and involved with the Narcos. It was a very tricky moment for them. But it was interesting to know their stories about these women who, they left everything. They left even their family, their child, to fight for their country.
TCC:  I haven't got around to seeing Narcos yet, but it seems like a good one. I look forward to seeing that one sometime soon.
AR: Yeah. Yeah, it was.
TCC:  Now what is Everything, Everything?
AR:  Everything, Everything is, it's a movie and my latest film that I did. It's a young adult movie. It's based on a novel, a New York Times best-selling novel called Everything, Everything, by Nicola Yoon. And it's about a girl called Maddie who's allergic to everything, so this girl has never left the house in 18 years. So the movie starts when she turns 18. And pretty much her world, it's me, her nurse, who's me, and her mom. And everything changes when a very cute guy who is played by Nick Robinson moved next door, and they fall in love and pretty much she will risk everything for love. It's a very beautiful story.
TCC:  Now, here what we get to talk about what I'm most excited about. You're in the remake of Twin Peaks?
Twin Peaks official trailer

AR:  Yes [laughter].
TCC:  Are you allowed to talk about that at all?
AR: I am allowed, but to be really, really honest, I don't know much about it because what I know – what I can tell you – is that when I did it, even Showtime who's producing the show had no idea— David Lynch never showed anyone the episodes or anything. I have no idea which episode am I in. I have no idea what's the story about. I just know my scenes, and that's all I know. Even when I went to the audition, I just stayed there on a couch and they just filmed me. I had no material. Nothing and I just went in, sat down, and then, a couple weeks later, they told me that I got the part. I didn't have to do anything. It was really strange, but I got to work with David Lynch. He wrote, directed and did the whole thing. So that was really, really exciting. But even when I went for wardrobe, wardrobe wasn't allowed to read my scenes, so [laughter]. Yeah, so they just told me, "What is it about?" And, "We can't read it." And I'm like, well, it goes like this and that. And they were like, "Okay." So they put me in the wardrobe, but that's the way it worked. So I don't know. That's all I know. I'm just being really honest. That's all I know.
TCC:  So you'll be watching along with everyone else, "When am I in? What's going to happen next?"
AR:  I know. I guess. I'm going to be like, "Oh," waiting for me to appear at some point. I have no idea so, yeah. But it's a great— it was an amazing experience.
TCC:  Now, who are some performers that you want to work with?
AR:  Annette Bening is one of my favorites. Who else? Louis CK, that would be my dream. And who else would I be super excited to be with? Cate Blanchett and Jeff Bridges. I don't know, I'm just naming a few.
TCC:  Yeah, there are a lot to choose from.
AR:  There's so many good actors.
TCC:  Would you care to say who are your celebrity crushes?
AR:  Well, it's still Daniel Craig. Also Oscar Isaac. And who else is my celebrity crush? I have a lot. I don't have that many. I have one, but I don't want to say it. He's a singer, but I'm shy to say because he's very young.  I feel bad. I'm like, "I shouldn't." I look bad saying that I have a crush. He could be my son.
TCC:  I felt that way when I saw a Harry Potter movie once. I felt a little bit like a dirty old lady.
AR:  Exactly. That's why I won't say it.
TCC:  So is there a type of character that you haven't played yet but you wish to play?
AR:  Well, there is a couple of characters that I would like-- there's a biopic that I've been trying to produce but I haven't been able to because it's a period film. And it's about the first Latina actress who made it in Hollywood. And in the 1920s, she went from silent movies to talkies. So that's a character that I would love to play. And there's another character that I'm actually kind of attached to this movie called— it's like a biggest role model in Mexico. She was a nun in the 1300s, and she was the first feminist that we had. So those characters are the ones that I really want to play at some point, and I also would like to do more comedy too.
TCC:  Now, do you live in Los Angeles right now or do you still live in Mexico?
AR:  I live in LA, yeah.
TCC:  And when you're not working, what do you like to do for fun?
AR:  I'm very simple. I pretty much like to stay home. I love my house. I love my place. I just stay home, invite friends. We watch movies or we can play cards. I just bought a karaoke, and so we do that. Sometimes I go out and dance, but I don't really do that. I love to dance, but I just don't like clubs, but very normal stuff.
TCC:  Now, what are some charities that you support?
AR:  I have my own charity back in Mexico. I've been doing this for seven years and it's called VeracruzANA. I am from Veracruz, I am from that place, and because my name is Ana, that's why it's called VeracruzAna. And I support a lot of communities, and everything started after a big hurricane that hit my hometown and destroyed many small communities, especially one that is very important historically. So that community lives out of the tourism. So after the hurricane passed, no one was visiting. So I kind of rebuild the whole town. And I've been very focused on that. And then after that, I did a museum and book, and I have residence for artists. So it's a charity that-- I did a  lot for kids. So it's a really big charity that I'm proud of.
TCC:  What is something in life that you really want to do but haven't gotten around to doing yet?
AR:  I love to, at some point, get a year off and have the luxury of— go to Europe and live there at least six, seven months in— say like seven, eight months in France. I would like to learn French and then go to Italy and learn how to speak Italian and have that experience.
TCC:  Now, how do you like your fans to connect with you?
AR:  I do it a lot on social media. I do it a lot through Instagram, and mostly I use Instagram, and from there reply to my Twitter account and my Facebook account. And I do see the comments and reply to them.  I like it. Also, for example, my charity, how I started it, everything I started through social media and it's a great tool for public figures to be close to your fans or close to— and also be able to share whatever your interests are because you have a voice. So I think it's, for me, I respect very much also the people who don't have it, because I love that, too. But I like it, and at the same time, it's very helpful.
TCC:  So your next projects that people can see you in are Everything, Everything and Twin Peaks, both seem exciting.
AR:  Yes. Yes, and Power, which I just finished the fourth season. And we're in talks to see if I do some more with them for the next season, too.
TCC:  Now where is Power? Where is that shown?
AR:  Power is on Starz. And, yeah, it's on Starz. It's a show which is by 50 Cent.
TCC:  Is there something you'd like to add?
AR:  No, just thank you so much for the interview. And, yeah, everyone can follow me on Instagram which is @adelareguera, which is my first initial and de la Reguera. And it's the same one for Twitter and Instagram. And they can check it out, the charity and everything we do. And I hope people like it and like the projects that I'm involved.
TCC:  So they are. And I think the cult following of Twin Peaks is going to get you even more fans, too.
AR:  I hope so. I hope so.
TCC:  Thank you again for everything. And I wish you luck in all your endeavors. And I'll look forward to not only seeing you in more movies and TV shows but also on the covers of more magazines.
AR:  I hope so, too [laughter].
Follow Ana de la Reguera on Instagram at @adelareguera and catch her in Power on Starz, Everything Everything and Twin Peaks on Showime.
Twin Peaks Trailer