Most people find a little room in their hearts for the love of the Irish on St. Patrick's Day.  Whether you want a quiet dinner of corned beef and cabbage or shepherd's pie with a pint of Guinness or if you want to make a day and night out of it, there are many ways to celebrate this fun holiday.
While St. Patrick's Day isn't really known as a gift-giving day, there is always room for small thoughtful festive gestures. There are some must have products, food items and of course beverage ideas that can get anyone in the mood for this celebration.
Gifts
Tipsy elves
Tipsy Elves may also have some Tipsy Leprechauns working with them this time of year as they have must-have festive clothing for lovers of St. Patrick's Day.  Their offerings include some beautiful Henley's, as well as some more outrageous sparkly leggings and fun socks. Their products range from the subtle to the far-out and smile inducing.  They have items for men and women. Not only are these items fun, but they are well-made and comfortable.  Check out Tipsy Elves here.
Hydro Flask
Being able to carry a drink in a festive, yet somewhat subtle container could yield some great happiness.  Hydro Flask offers a small 10 oz thermos that is the size and shape of an Old Fashioned glass and comes in five colors.  This insulated vessel keeps your drink the right temperature for many hours, whether it is some hot Irish Coffee or some chilly Bushmills on the rocks.  This product is incredibly useful.  It fits beautifully into your hand and is pretty to look at and is durable.  This is the kind of item you may get for St. Patrick's Day, but will find useful all year long. Buy one or more Hydro Flask items now here.
Silpat St. Patrick's Day Baking Mat
Bakers love useful items that have a seasonal flair.  The folks at Silpat have created a shamrock-filled mat to join their family of non-stick baking products. These products are convenient, environmentally friendly and easy to store.  Silpat can be found here and on Amazon.
Copper Chef Cookware
To a foodie, a good copper pot is just about as good as a pot of gold at the end of the rainbow.  The attractive Copper Chef Cookware comes with a deep, squarish non-stick pan where you can bake, fry, boil, sauté, steam and braise and also functions as a roasting pan, rice cooker, steamer, stock pot, wok and baking dish. This item reduces the need for lots of other cooking and baking items.  If you are looking to lead a healthier lifestyle you can use this pan and not have to use oil and butter to make your dishes.  Something really convenient is that this pot can go directly from stove or oven to table.  The standard five-piece set comes with the 9 ½ inch square pan with lid, a steam and roast rack, fry basket and recipe book. They also, six-piece and 12-piece sets can be purchased here or at Bed Bath & Beyond.
Foodie Gifts
Gráinne Baking Co
Shortbread cookies are good, especially for dunking, but the Brown Sugar Shortbread Cookies from Gráinne Baking Co's are yummy and authentic. You will want to order more before you finish the package—which could be in under 2 minutes. They are beautiful and the perfect texture—they aren't too crumbly.  Grainne also has other baked products including some terrific gift boxes. Get your goods from Grainne here.
Cheryl's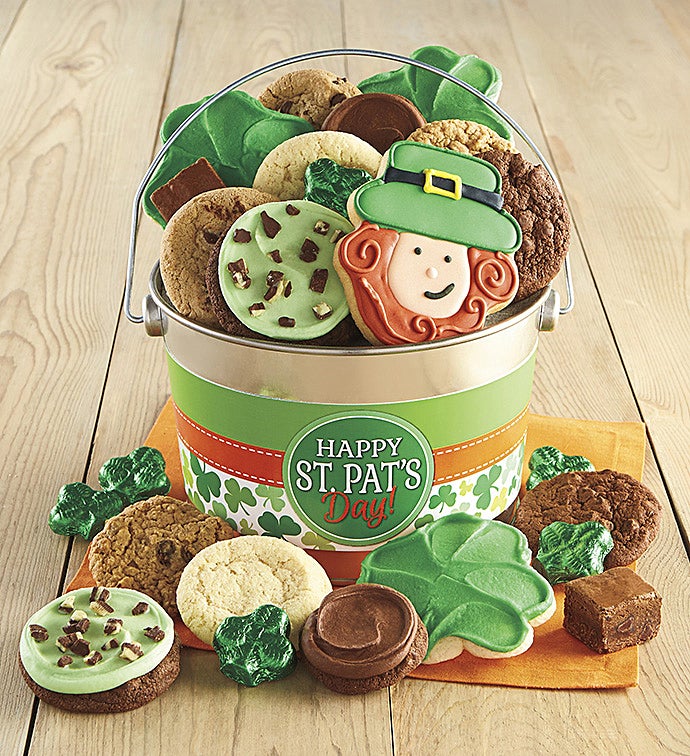 A tasty gift box with a St. Patrick's Day theme can bring a smile to most just on principle, but when one has cookies that taste incredible and cheerful, shamrock-laden packaging from Cheryl's, it is a cheerful and scrumptious gift. You can choose gift boxes or a great St. Patrick's Day Treats Pail that comes with 24 pieces of deliciousness including snack size cookies and brownies, buttercream frosted shamrock cut-out cookies, foil wrapped chocolates, a hand decorated sugar cookie and a buttercream frosted chocolate mint cookies. Cheryl's not only tastes great, but it makes you happy just looking at it.  Get your baked goods from Cheryl's here.
Hi-Chew
Yummy candy is always a welcome treat.  It is better when it comes in festive colors.   Japanese Hi-Chew comes in many fruit flavors that don't have an artificial taste and a soft chewy texture.  The new Kiwi flavor is a little different and still keeps in the St. Patrick's Day spirit.  If you just feel like some good candy, and don't care about the color, you may also want to try the brand new Hi-Chew Fizzies that give a 'pop' of flavor and fizz with two nostalgic flavors -- Cola and Orange Soda. Hi-Chew can be found here and are now available nationwide at various retailers and online at Amazon.com.
Three Bridges Pasta and Sauces
Sometimes you want something festive, but easy to prepare.  The folks at Three Bridges not only have delicious pasta and sauces, but these items are nutritious and very easy to prepare.  Some Triple Cheese Tortellini with Basil Pesto Sauce is the right color and taste to celebrate with an easy home-cooked meal with a Italian St. Patrick's Day flair. Find Three Bridges products here.
Wholly Guacamole
Some may like their spinach, but the tastiest green vegetable has got to be the avocado.  Wholly Guacamole is delicious, nutritious and tastes as good as versions made table side at Mexican restaurants.  Add some chips and you have a green treat that will make everyone smile. Find Wholly Guacamole at a store near you here.
Murray's Cheese
Cheese lovers have another reason to rejoice for this St. Patrick's Day as Murray's Cheese has an amazing gift box just for you.  The Emerald Isle has some delicious treasures to discover.  This box contains Irish Cheddar, Grazier's Edge, Cashel Blue, an Orange & Bourbon Marmalade and some crunchy Brown Bread Crackers.  Order your box from Murray's Cheese here.
Beverages
Old Bushmills Red Bush
Every whiskey connoisseur has their favorite Irish libation, but St. Patrick's Day is to try something new and delicious.  Bushmills Red Bush is an Irish whiskey for bourbon drinkers. This smooth blend is matured exclusively in American white oak bourbon barrels and contains notes of toasted oak and vanilla with a subtle sweet yet balanced finish. Find Bushmills Red Bush here.
Sparkling Ice
Not all festive drinks need to involve booze.  Sparkling Ice drinks are low calorie, yet flavorful beverages in a variety of flavors.  They have many that are in shades of green that would make St. Patrick's Day a little more fun, and perhaps a little more delicious.  These drinks can also be used to make some delicious recipes. Sparkling Ice is available at many stores and you can find a place near you by checking out their store locator here.
Zaca Recovery Chewable
St. Patrick's is one of those holidays when people plan to over indulge in food and booze.  Having a hangover remedy handy might be a good idea.  Zaca Recovery Chewable is six to-go packets containing 12 berry-flavored tablets that is said to help ease the symptoms of a hangover.  The reviews on this product on Amazon are good, and it might be a great idea just to have them on-hand just in case.  Get your Zaca Recovery Chewable here and on Amazon here.